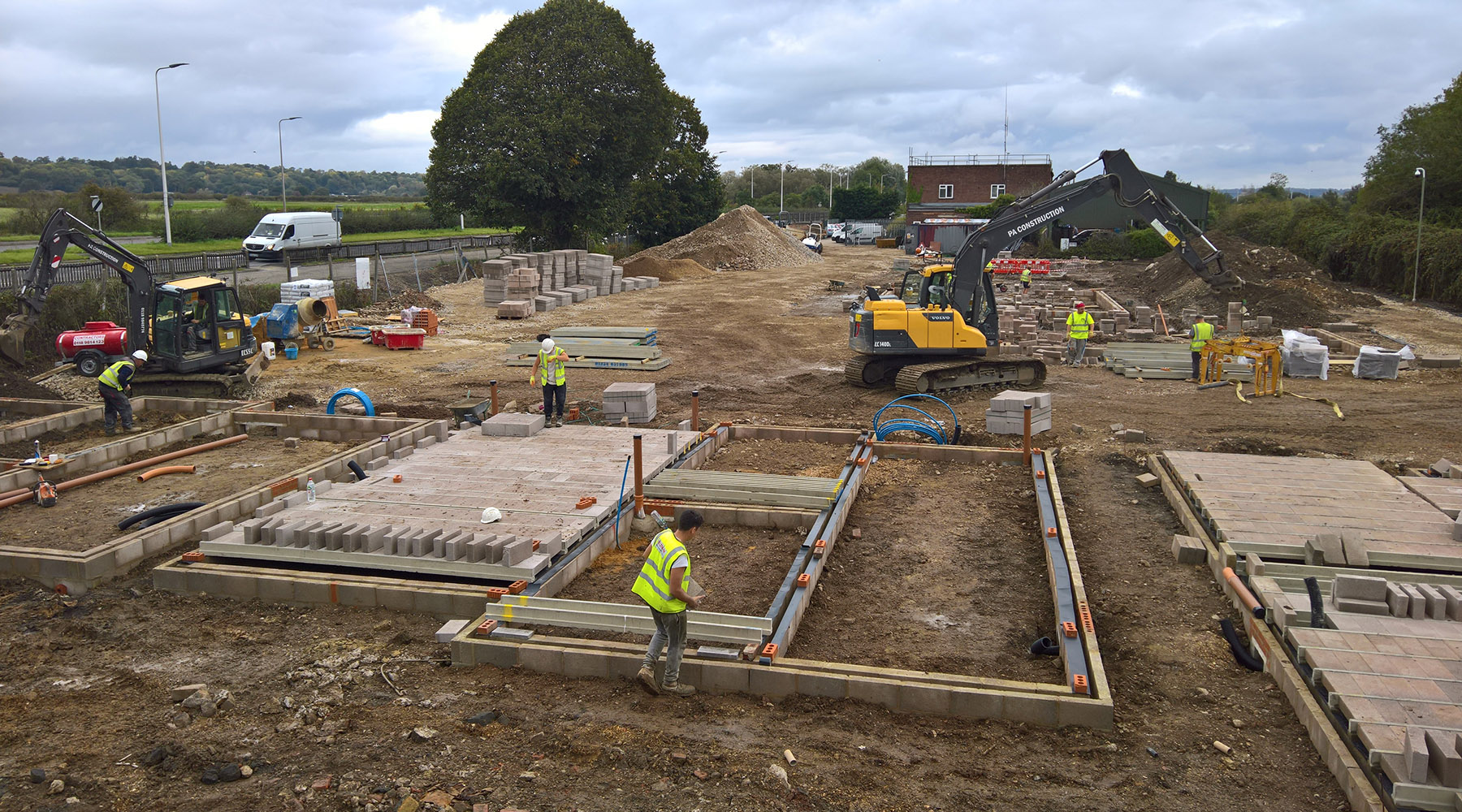 Civil Engineering & Groundworks
Our civil engineering and groundwork services cover a wide range of works.
PA Construction offers everything you need from foundations, substructures, earth retention, drainage, roads, car parks, as well as installation of new services and utilities.
Each contract or project we take on has an on-site manager, supported by a dedicated quantity surveyor and engineer to ensure that the project is delivered on time and on budget. PA Construction an unrivalled mix of experienced operatives. You'll find integrity everywhere at PA Construction from our first-class civil engineering experts to our plant department.
We are civil engineering specialists and groundwork experts. We can handle the process of a wide range of groundwork tasks with precision. We can offer solutions on everything from foundations, earth retention, roads, car parks, drainage and more.
With our years of experience in this industry we can make sure that we can deliver an unrivalled level of service from the operators we have on hand. We value integrity and this means offering first-class engineers and on site operators to build new systems and repair systems in the future that will last for an extended amount of time.
We have assisted with a wide range of repair jobs including fixing up uneven floors, quickly repairing failing foundations, preventing water intrusion as well as helping with damp and mould issues throughout the home. We have access to the best in commercial grade pumps, drainage systems and more. We want to make sure that any repair job can be completed as efficiently as possible and with proper protection for the future.
Our professional civil engineers can handle your ongoing design, construction and maintenance solutions. We can inspect any system requiring groundwork support. In the past we have worked in settings to build and repair roads, bridges, sewage systems, pipelines and more. We employ the very best civil engineers in Reading, Berkshire to ensure that we can offer the best level of support to our crews and to our clients.
Specialising in groundwork projects including assistance with resin bound flooring, landscaping, and outdoor planning and more, we can make sure that any project can be properly planned and executed. We are a team that can establish groundwork solutions for your property. No job is too big or too small and we have the equipment to take on any challenge for groundwork engineering in Reading.
We are available to conceive, build, supervise and maintain products and systems for the public and private sector across the South of England. If you have a need for professional groundwork's, contact our staff today for more information.
We are trusted foundation repair specialists with decades of experience to help our clients. From our offices in Reading, Berkshire, we serve clients throughout the South East with trusted groundwork's support. Contact us today to learn more about the types of services we have available. We are available from 8 AM to 5:30 PM Monday to Friday.